---
Farm
Our products
L'azienda vanta 7 ettari suddivisi in un grande oliveto, un frutteto, un orto bio ed un sentiero di erbe aromatiche.
È possibile durante il soggiorno acquistare i prodotti coltivati nella nostra azienda agricola biologica:
olio extravergine d'oliva, legumi, cereali, pasta e marmellate.
In base alla stagione e la disponibilità si può usufruire anche delle verdure dell'orto bio.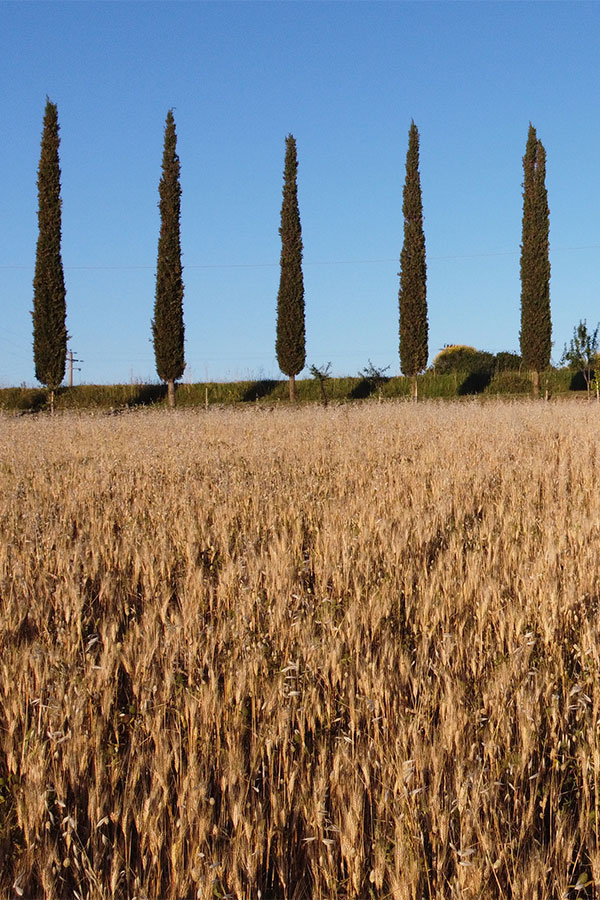 Nutrire la Terra per nutrire la salute.
I nostri prodotti biologici rappresentano il risultato di un lungo processo che curiamo personalmente dall'inizio fino alla raccolta. Con dedizione e costanza curiamo ogni fase della crescita, senza alcun utilizzo di sostanze chimiche adottando il metodo Biologico, per ottenere un prodotto che, oltre ad essere naturale, conserva inalterato la sua genuinità. Alla Tana del Bianconiglio si coltivano prodotti dai sapori autentici e avvolgenti per soddisfare il nostro fabbisogno e di chi sa apprezzarne e valorizzarne l'unicità.
La nostra filosofia non è produrre il più possibile, ma volgere l'attenzione alla qualità di ciò che coltiviamo e ristabilire un rapporto tra l'Uomo e la Terra, ormai sempre più lontano, che non sia di sfruttamento ma di rispetto.
Cerchiamo di far tornare in auge varietà antiche che sono state accantonate per far posto alla redditività, e di variare le colture uscendo da schemi irrispettosi della biodiversità.
Pasta integrale di semola di grano duro biologico
Una pasta ottenuta dalla macinazione a pietra dei chicchi, la principale caratteristica è quella di macinare l'intero chicco del grano con una bassa velocità che riduce il surriscaldamento delle macine e quindi delle farine senza intaccarne le proprietà. Inoltre macinando l'intero chicco si preserva anche il germe che si trova nella parte esterna, il quale contiene sostanze nutritive particolarmente preziose quali, sali minerali, fosforo, potassio e magnesio, fibre e antiossidanti che con il processo di raffinatura industriale andrebbero perse. Successivamente, dopo la trafilatura in bronzo, la pasta viene essiccata lentamente a bassa temperatura, pronta per essere assaporata!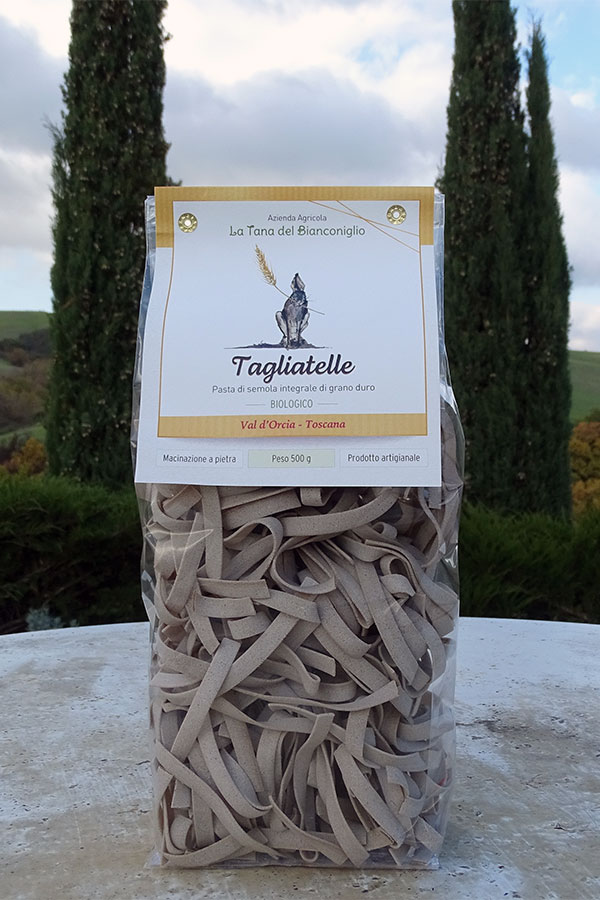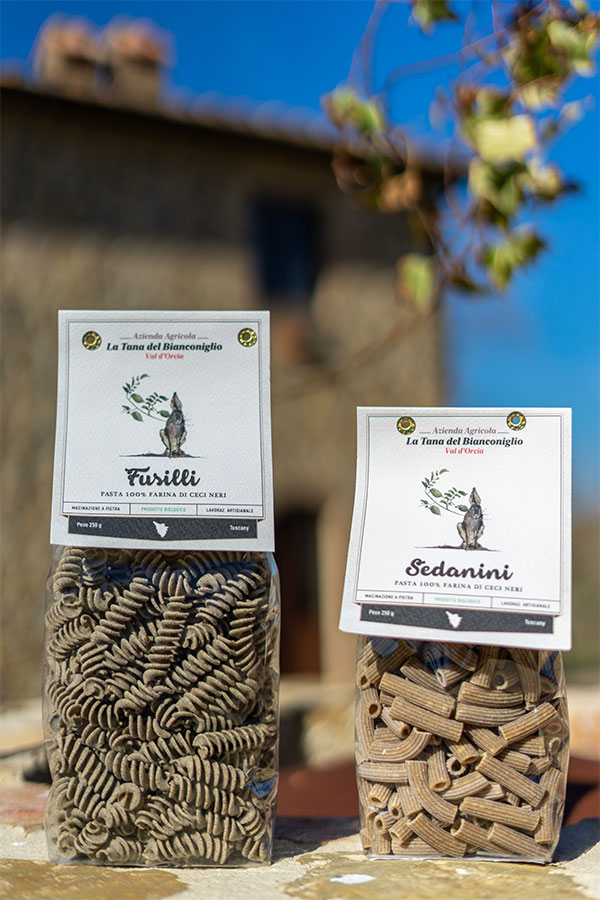 Pasta di cece nero biologico
Una pasta ottenuta dalla macinazione del cece nero, un legume pregiato e ricco di proteine, una varietà del tradizionale CICER ARIETINUM, da cui si contraddistingue per un sapore più in intenso ed aromatico. Le origini risalgono agli Egizi ed ai Greci, molto apprezzati anche dagli antichi Romani che li mangiavano fritti. Il cece nero vanta numerosi benefici per la salute dell'organismo, contengono ferro, sono ricchi di vitamine e di sali minerali. 
Extra Virgin Olive Oil
Our oil is obtained from typical Tuscan varieties, including Frantoio, Leccino, Moraiolo and Pendolino which give an intense and fragrant aroma together with unique organoleptic properties. The olive trees are treated using an Organic method meaning without the use of chemicals and are fertilized through the practice of green manure consisting in burying legume plants which bring a considerable amount of nitrogen and organic substances to the soil.
The olive trees are treated individually respecting their needs, making sure their natural shape is maintained without making any drastic and/or invasive cut.
The production consists of more than 600 olive trees of which 500 were transplanted in 2016 with a vine spacing seven by seven.
You will taste an intense, full-bodied oil, cold-pressed and suitable for any seasoning.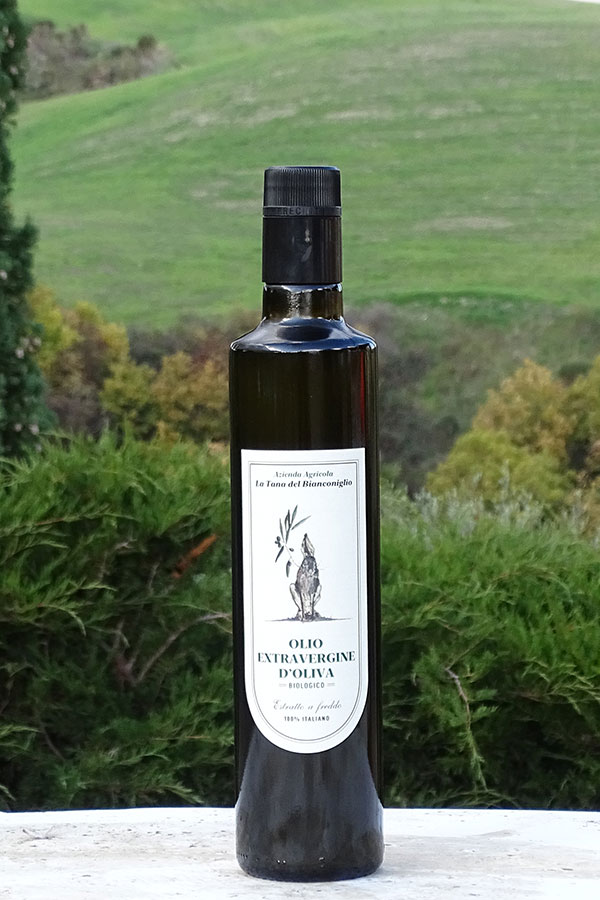 ---
Ingredienti
genuini
Tutti i nostri prodotti sono realizzati con materie prime coltivate con amore nella nostra terra.
Acquistando i nostri prodotti, aiuti anche gli animali del rifugio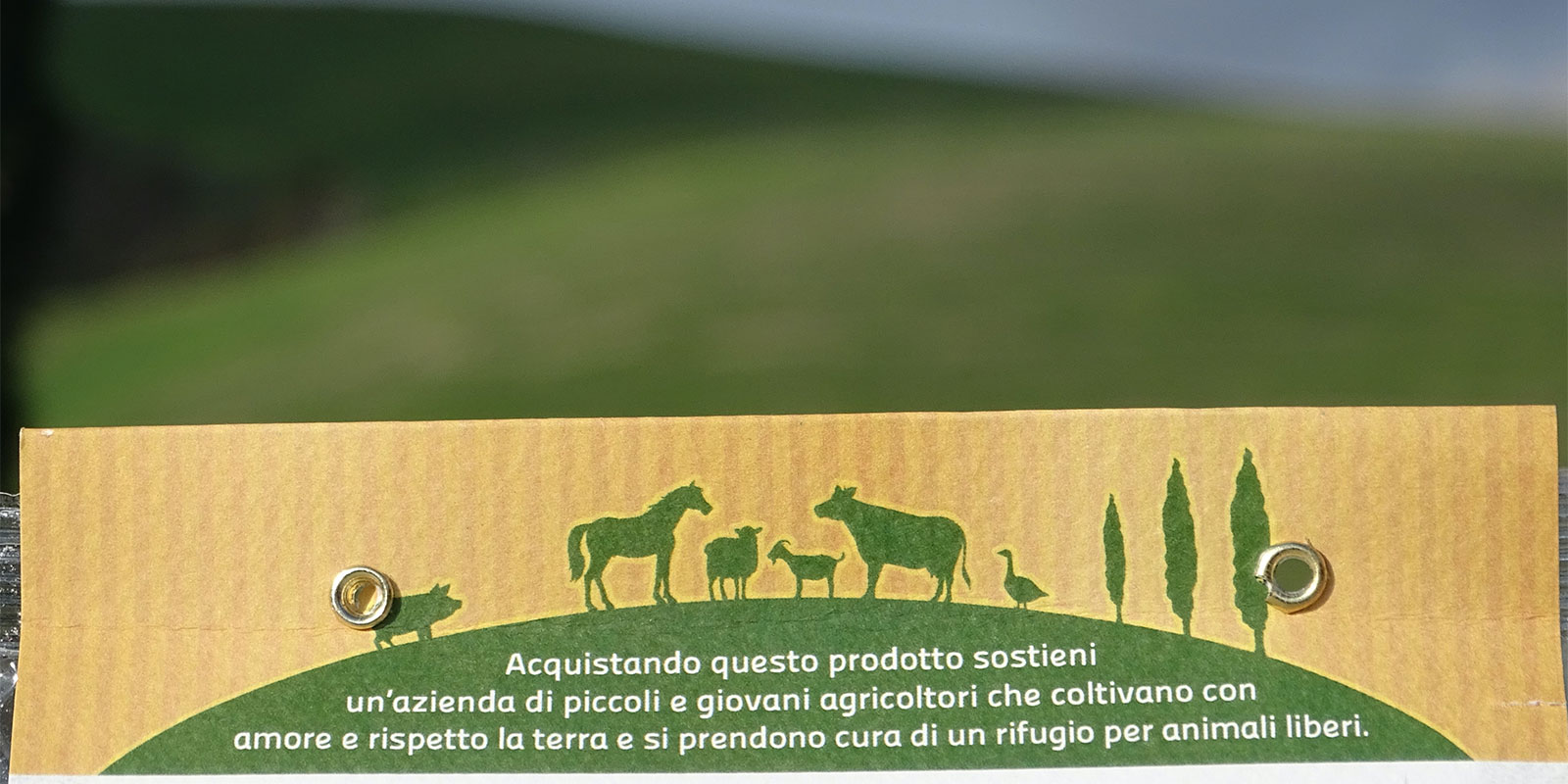 Scrivici per conoscere la disponibilità dei nostri prodotti